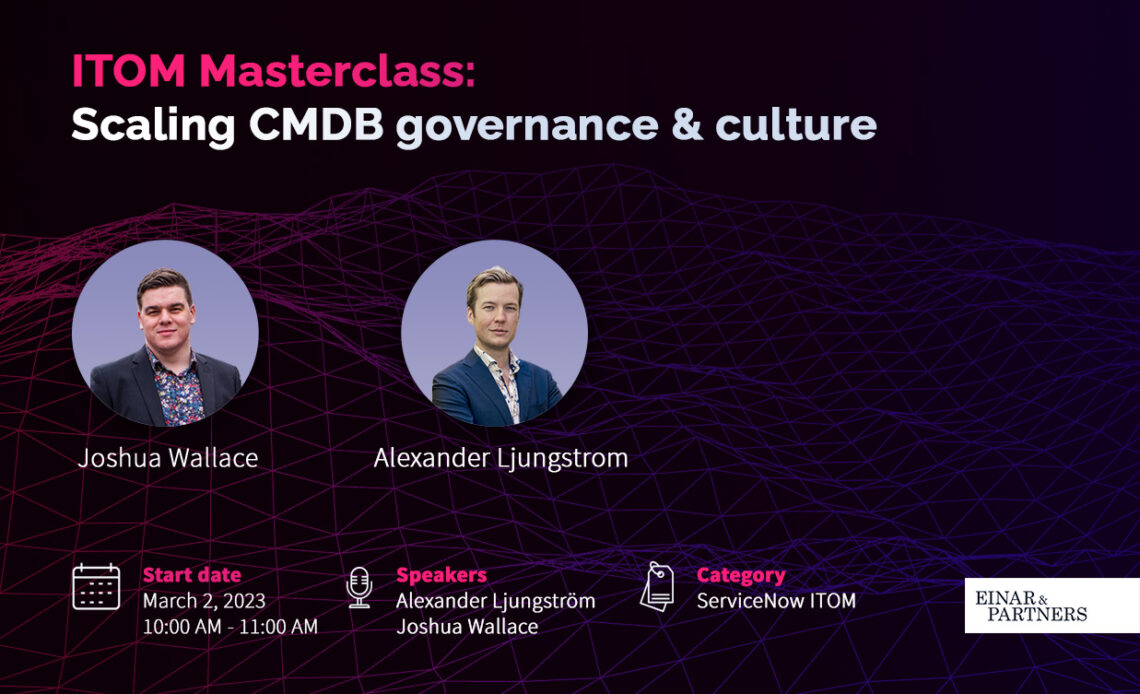 Summary
Loading data into the CMDB is easy, but scaling it across the organization is difficult. Many organizations struggle with too low adaption rates of the configuration management process and suffer from poor value. From a cultural perspective embedding the CMDB continues to be a key investment for many IT leaders & decision-makers. But why do some organizations succeed and others fail?
In this ITOM Masterclass by E&P the audience will learn the hottest market knowledge about CMDB Governance and how to scale it successfully. Based on over 40 large-scale CMDB implementations, our CMDB expert and founder Alexander Ljungstrom will cover topics such as:

Building out the CMDB dream-team
Scoping CMDB governance and creating organic buy-in
Best practices & advice on governance models
Common pitfalls and reasons for failures

The CMDB can become the beating heart of an IT organization through good governance. Our masterclass is well-suited for IT leaders, decision-makers, senior architects and VPs who refuse to have "another failed CMDB project".
Video Timeline
00:00 – Start
00:30 – Introduction
06:15 – Common Challenges
12:46 – Defining CMDB Governance
18:50 – Creating the CMDB dream-team
40:15 – Governance Models & Generating Buy-In
55:30 – Q&A / Wrap-up