What roles are involved in a Service Mapping project? A Service Mapping project is an exercise of organizational coordination more than anything. Check out the Einar & Partners one-pager which clearly describes all the involved roles and how they interact with each other.
Service Mapping Process Owner
Typically a Service Mapping process owner is involved who has the function of being responsible for the business value that service mapping generates. The service mapping process owner, contrary to popular belief, does not need to be a highly technical person but rather acting as an ambassador. This ambassador should be able to articulate good governance around services, explaining the business function of service mapping and provide it as a service to the wider organization. The process owner works tightly together with a service mapping specialist.
The expectation on the service mapping process owner is to:
Develop Service Mapping as a business function which is offered to the organization
Increase the level of service awareness within the business
Determine when external consultants should be brought in vs internal competences
Develop and maintain governance models around Service Mapping
Teach and help service managers and staff to use service maps
Integrate service mapping in other processes, such as change and incidents
Service Mapping Specialist
The Service Mapping Specialist is often in the beginning an external consultant who knows the product deeply. At some point in time, internal capabilities of how to work with Service Mapping, build patterns and create topologies must be developed. This person should typically have in-depth technical skills in IT infrastructure and the ServiceNow platform. The expectation on the mapping specialist is to:
Map services together with service owners / managers
Build and edit patterns
Assess when patterns make sense to build vs manually
Troubleshoot and fix errors in maps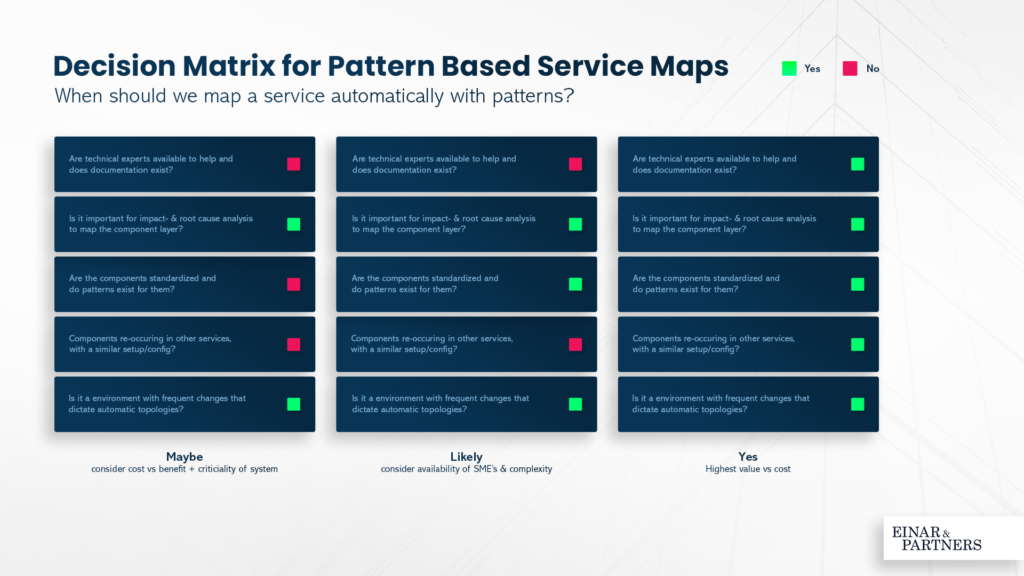 Service Owners / Service Managers
The service owners (or service managers) are typically the responsible person for an application service. In large organizations, a distinction is often made between the business contact and technical contact. But most of the time, the responsible person for an application service tend to have a level of technical knowledge around the components and topologies of the environment (dev, prod, qa). The service owner assist with:
Validating service maps and topologies
Providing technical expertise around the configuration of components
Provide architecture guidance (if possible) such as blueprints or visio diagrams of the service
Is responsible for ensuring that the map is correct and the critical components are visible
Works closely with the mapping specialist
Technical Architects & SME's
The technical architects and SME's are sometimes requested by the service owners/managers to help with questions. The questions could be regarding specific configurations, design decisions or technical guidance for the mapping specialist. When mapping a larger service, it's not unusual to have multiple SME's assisting the mapping specialist during the process to ensure validity and correct topologies.
Download the Role Framework PDF below